1. Luleå–Boden: 35 kilometer
Check out of your hotel in Luleå and head west, along Route 97. The summer city Luleå has a lot of things to offer those looking for a great holiday: boat trips in the archipelago, architect-designed shopping at the world's first shopping centre, museum visits and art exhibitions at Norrbotten County Museum and Luleå Kulturhus, and choosing tasty food from a White Guide brimming with restaurant options. You don't have to travel far along Route 97 before arriving at a sign pointing towards the church town in Gammelstad, Luleå's origin and listed as a World Heritage Site. There are 16 remaining church towns in Sweden, 13 of them in Swedish Lapland. Gammelstad is the largest and best preserved. After a guided tour, a visit to the open-air museum Hägnan and a stop at Shop in Lapland you continue your trip, now heading towards the garrison town of Boden.
From Luleå to Ritsem
Drive into Stora Sjöfallet National Park and World Heritage Laponia.
Click on [ ] to bring up the map on your mobile or desktop (at the top right corner of the map).
1.5 Alternativ väg: Luleå–Råne älvdal–Harads 131 km
There are several roads to choose from between Luleå and Harads, so you don't have to opt for the classic 97. If you drive south, you can visit Älvsbyn and Vidsel and make a detour to the beautiful Storforsen rapids. Another option that is equally as exciting is to take a northern route following the Råneå River Valley. Upstream of the town Råneå you'll find the Melderstein Manor, and further along the river there are several places to stop for a swim, or a bit of fishing perhaps? Below the classic Karsberg waterfall in Lassbyn you can even see the river salmon jumping. You can go for a swim near the newly renovated Sörbyn Lodge, or jump in from the sauna raft at Aurora Safari Camp in Gunnarsbyn. As a matter of fact, you can even stay the night on the sauna raft if you feel like it.
If you feel like staying an extra day or two in the Råneå River Valley you can also stay at The Outpost in Mårdsel or in lovely log cabins on a promontory sticking out into the river at Arctic Retreat. Cabin life at its best. Here, by Snipen in Niemisel, there's also some proper sport climbing to be found at one of Sweden's hardest crags. You can join the Route 97 again by driving towards Harads via Ljuså and Storklinten, or travel further along the Råne River Valley to Mårdudden, which takes you down to Harads on the road through Lakaträsk.
An evening on the sauna raft at Aurora Safari Camp in Gunnarsbyn offers more than just fantastic swimming – you can even spend the night here on the raft. Photo: Nattesferd.
Boden
Until the mid-90s, foreign visitors didn't get the warmest welcome in Boden. Around the area were signs that read "Entry prohibited to aliens". Boden is still one of Sweden's most important military strategic centres, but visitors are welcome and more people than ever come here during their holidays. You can stay at the camping site First Camp, the classic hotel Bodensia, Boden Bed and Breakfast or Lapland Yurts as an exciting option if you're in the mood for some glamping. Those interested in military history are sure to visit both Försvarsmuseum, the Defence Museum and the Rödberg Fort. Another exciting place to visit is the County Art Hall, Havremagasinet, one of Sweden's largest spaces for contemporary art.
From the railway station to the pedestrian street in the centre, you can walk in the footsteps of author and Nobel Laureate Eyvind Jonsson, one of the great writers in 20th century literature. When you get hungry there's superb lunch available at Norrigården, unless you prefer a seat by the water on M/S Bräna, of course. If you're too hot from walking, perhaps Nordpoolen could be a nice and cool option. Or just jump straight into the river?
Gammelstad Church Town
Just outside Luleå is the World Heritage Site Gammelstad Church Town. It was the city centre up until the 17th century and features red log cottages in a kind of organised jumble around one of the most beautiful churches in the north of Sweden. A place unlike no other.
2. Boden–Harads: 82 km
The journey continues along the Lule River, passing through Vittjärv, with Lapland Yurts. It's beautiful. Farming communities and single farms. Green pastures and animal husbandry. There is a turn between Nedre and Övre Svartlå and that road leads to Storklinten: a ski resort that attracts skiers on the national team early in the season. In Nedre Svartlå the nature guide company Hide and See has offices. Right where the village Harads begins is the world sensation Treehotel. It used to be a simple guest house and now it's an experience hotel with a guest house, a restaurant and – of course – tree houses. All rooms are designed by some of the most famous architects in Scandinavia, such as Bjarke Ingels, Snøhetta and Rintala&Eggertsson, and others. Down by the river in Harads you'll find the second world sensation: Arctic Bath. An architect-designed floating spa hotel on the Lule River. Have some lunch and then join a guided tour of Treehotel. But Arctic Bath will be the setting for dinner and sleep. As well as a swim and time in the spa.
Treehotel
It began as a dream of something new, and the idea was developed around the campfire on a fishing trip. The Treehotel story is a fairy tale in itself – and amazing architecture.
A little over ten years ago, Harads was a pretty uneventful place. A place moved from, rather than to. But then Britta and Kent Lindvall decided to complement their guest house with accommodation up in the trees, so Treehotel was built.
Now the magical concept hotel has transformed the village into a world-class attraction. Arctic Bath has since been built, in the footsteps of Treehotel. Photo: Viggo Lundberg
Also, near Harads, unique Loggers Lodge and Arctic Retreat have been created. Several activity companies, such as Hide and See and Arctic Adventures, have also been set up. Photo: Eric Borg.
3. Harads–Jokkmokk: 87 km
You continue driving towards Jåhkåmåhkke/Jokkmokk this morning. The breakfast at Arctic Bath was tasty. At Edefors power station there's an exhibition on salmon fishing in the Lule River. The city of Luleå ran the trapping here in Edefors and had the world's best salmon fishing. In the years after the Second World War more than 100 tonnes of salmon were caught in the river. Since then, the river has been developed to produce power for the likes of mining industry, green steel and Facebook. Salmon fishing made for healthy finances in Luleå, but also paid for Uppsala University and Luleå's own urban relocation 400 years ago. Further upstream in Vuollerim, the river divides into the Greater and Lesser Lule River. You will travel along the lesser.
At Mathantverket in Vuollerim they make excellent cheese based on milk from the rare mountain cow. The combined café and shop is called Gärda. You buy some to take with you, being partial to both cheese and rarity. Nearer Jåhkåmåhkke/Jokkmokk you cross the Arctic Circle, where you stop to take a mandatory selfie. Just before the town centre you pass a camping site where you can go for a swim, or enjoy the activities and food on offer.
Arctic Bath
Harad's second world sensation is Arctic Bath. An architect-designed floating spa hotel on the Lule River.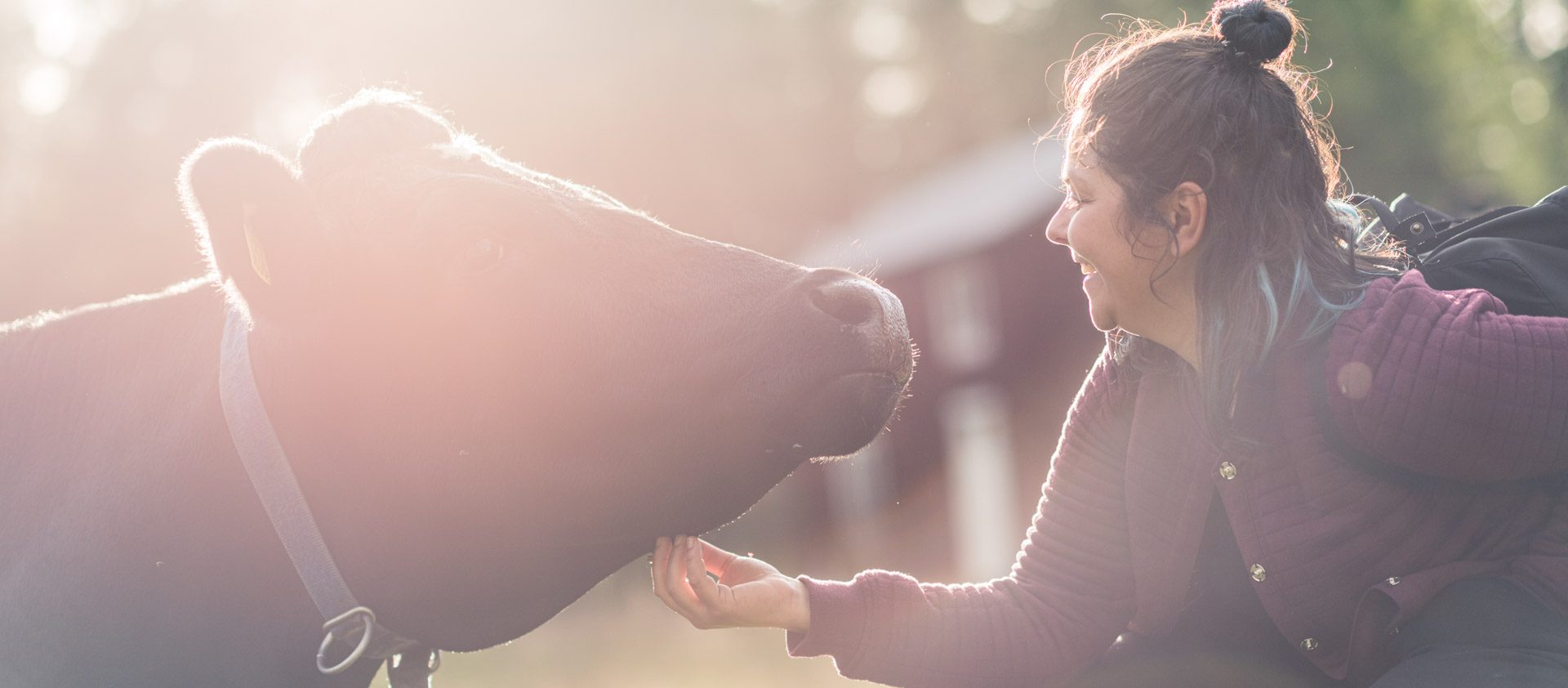 Jokkmokk
This place is best known for the Jokkmokk Market, arranged every February since 1605. This is the capital of the Swedish part of Sápmi, the land of the Sami. You can easily spend a day or two here, visiting Ájtte, the Swedish Sami Museum; Fjällträdgården, the alpine botanical garden as an entry into Laponia; Duodji, the Sami craft shop and knowledge carrier; Stoorstålka, another shop with a modern character, selling a wide variety of yarns and amazing knitting patterns; Jokkmokks Tenn with a rich history and beautiful pewter products and Care of Gerd, skin care products featuring local products and a brand that has become an international success.
You can stay at the camping site, at Hotel Jokkmokk or at classic Hotel Akerlunds. But tonight you've opted for a floating room at the Peace and Quiet Hotel. First you head to the deli section at Coop and buy air-dried products from Jokkmokks Korv, a company that has won lots of awards in Swedish Food Craft.
A food creator
More than 30 years ago, Eva Gunnare fell in love with Swedish Lapland and everything growing in the forests all around her.
Ájtte Swedish Sami Museum
Ájtte is the Swedish Sami Museum, the principal museum of Sami culture, a specialist museum for the landscape and culture of the mountain region and an information centre for mountain tourism.
4. Jokkmokk–Porjus: 45 km
From Jokkmokk you head north along the E45. Past the exit to Kvikkjokk, on towards Porjus. Here the trip becomes a tour of hydroelectric plants, mirror ponds and industrial landscapes. At the same time, you're basically driving into the Muddus/Muttos National Park. Just a few kilometres outside Jokkmokk you come across the power plant Akkats, featuring paintings by Lars Pirak, Lars J:son Nutti and Bengt Lindström. Further north, after Ligga power plant, the surrounding area becomes a kind of cut in the landscape. This is the exit to Muddus National Park, one of World Heritage Laponia's four national parks.
Before Porjus there is a viewpoint at Harsprånget. Once upon a time this was a 75-metre-high waterfall; nowadays it's more like a stone desert. In Bårjås you'll find the first large power plant built by the Swedish state, providing electricity for the mine and Kiruna, making it the first city in the world with electrified street lighting.
Saltoluokta is a mountain station and Sami settlement, located 120 kilometres from Gällivare in an area where there are no roads, on the border of Stora Sjöfallet National Park and World Heritage Laponia.
5. Porjus–Stora Sjöfallet: 73 km
10 km after Porjus you turn left, onto what is known as the Way West. It's Sweden's longest dead end: Ritsem is 150 km further down the road. The paving is in very good condition to Stora Sjöfallet, but after that you start driving more carefully. In Nabreluokta, Sápmi Nature have their camp, and in Saltoluokta you find one of the finest mountain stations in Sweden, designed by architect John Åkerlund in 1918. He also designed the church in Harads, that you visited earlier. After you've gone past the car park for hikes to Saltoluokta you'll soon reach Vietas and Stora Sjöfallet Mountain Lodge: a modern oasis in the middle of a stunning environment. Also nearby is Naturum Laponia. The building itself, named Snow Trap and designed by Wingårdh architects, is beautiful and sits naturally in this landscape. Few places are exposed to the forces of nature, snow loads, and wind the way they are here, but the Snow Trap is built to withstand it. You stay here and enjoy the easy life at Mountain Lodge. A helicopter lifts off the pad. Perhaps take a sightseeing flight with Fiskflyg?
A hymn to home
Lennart Pittja runs Sápmi Nature Camp.
Laponia is Europe's largest continuous natural landscape with almost untouched nature. The total area of the World Heritage is 9,400 square kilometres; it includes four national parks and two nature reserves, and extends into three municipal areas.
The area has outstanding universal value and has largely been created because of its rich, and very much alive, Sami nomadic culture. At present there are 1,154 World Heritage Sites in 167 countries.
Most of them – 867 – are designated as such because of their cultural values, and only 39 are World Heritages because of both their nature and their culture. Laponia is one of those exclusive World Heritage Sites. The national parks included in the area are Sarek, Stuor Muorke/Stora Sjöfallet, Muttos and Badjelándda, together with the nature reserves Stubba and Sjaunja. Photo: Tobias Hägg.
6. Stora Sjöfallet–Ritsem–Gällivare: 200 km
In the early hours, before breakfast, you sneak off and drive towards Ritsem. The road from Vietas past Vakkotavare – where the King's Trail meets the tarmac – is in bad condition. You drive slowly. But that's ok. It's crazy beautiful. What you're after is capturing Áhkká, the Sami mother mountain, perhaps Sweden's coolest mountain massif, in good light. There lies the mountain and her reflection in the summer morning. Then you head back for breakfast. You have many kilometres to go today. Rimon at Stora Sjöfallet sells you lunch sandwiches and some coffee for your flask. You've planned a stop along the E45, and when you reach Sör-Stubba you walk up to the top. The view over Muttos is almost infinite. When you've finished your snack and enjoyed the view of the largest marshland in the country, looking out for Siberian Tit and Siberian Jay, both of them good ticks on a bird watcher's list, you descend and head towards Gällivare. It's time for an entrecôte and a glass of red.

Áhkká
The Sami mother mountain and perhaps Sweden's coolest mountain massif.
Gällivare
The town Gällivare is a favourite. Myths about the bohemian Liikavaara-Frans and his friends might not be of much help, but if you were to build a town in the northernmost part of Sweden, what would it look like? Well, train and flight connections as well as a European road running straight through town would be a good start. Continue with a mountain, Dundret, with a ski slope in the middle of town, some of the best cross-country trails in Sweden as well as trail-running tracks straight from the train station, an architect-designed cultural centre, a good hotel, a steakhouse providing medium-rare entrecôtes, a local brewery or two, a nice-looking burger joint, Alla Tiders Café and a couple of sushi restaurants. As long as you have time for all those things, you think, dipping your chips in a generously sized bowl of béarnaise sauce. Then you have a sip of Pinot Noir and decide that the mountain Dundret will have to wait until tomorrow. Tonight: the town.
Part of theme: