I call Mattias Fredriksson on a Saturday. He's out taking biking pictures with Janne Tjärnström, a Kiruna native. We agree that I'll call Mattias the next day, so that's what I do: "Hi Håkan, the weather is too good so I'm out snapping pictures today as well. And now Janne has got a flat tyre. Can you call me later?" So I call later, just before five: "Good you called. But we have to hurry. We've got guests coming in a bit and, well, I have to be there. And then we have to pack. I'm off around the world tomorrow, you know".
I'm writing this to let you know what Mattias Fredriksson is all about. During the 20-something years I've known him, this is what his life has been like, or at least what it seems to have been like – full throttle, simple as that. In many ways, that's probably why he's one of the world's most published photographers. Because he is, isn't he?
– Yes, that's probably the case. Others might shoot more covers than me each season, but I work with so many articles. I like doing articles.
At the right time
More than 20 years ago, Mattias worked as a cleaner at Hotel Riksgränsen. He looked up to the photographer Lasse Thulin, who had just made it big up there, far away. Mattias wanted to leave cleaning behind. If you look closely at photos of Janne Aikio and Ingemar Backman flying high in the famous King of the Hill competition in Riksgränsen 1995 you can see Mattias Fredriksson there at the edge of the quarter pipe with his camera.
– Well, perhaps that wasn't the best angle to capture that jump, Mattias says, laughing.
But what's interesting is that he was there, right in the thick of things. When the world of skiing changed, Mattias Fredriksson documented the transformation. Not only has he got a magical ability to capture powder and big mountains, but he has also managed better and to a greater extent than many others to capture what's been called 'the new school'. When skiers came into parks, upon the rails or into the city, Mattias Fredriksson was there too.
But, housekeeping service in Riksgränsen? Tell us about it!
– Yes, apart from being a good school – it was always easy to get out and take photos after work – it was a great time of my life. Some of the people I worked with back then or just spent time with became real mates – proper 'go-to guys' when it comes to photography or other challenges in life.
– Riksgränsen is unique in that sense, and I think a lot of skiers appreciate it. A season isn't complete until you've been there.
Where it all started
This is how lifestyle photographer Mattias Fredriksson's career took off in Riksgränsen back in the 1990s. Today he is one of the most published in the outdoor world. Last year he celebrated his 500th cover. In this film he returns to Riksgränsen where it all started.
The world's most published skiing photographer
I can imagine what Mattias Fredriksson was like as a cleaner. Intense, fast-paced and thorough. I know him a little bit as a photographer. A while ago I received an e-mail where he explained that he was going to do a job and that he'd sold it to seven different magazines in seven different countries. And since I've worked with some of those magazines, I also knew that perhaps they didn't pay particularly well. It was a bit odd that the world's most published skiing photographer worked like that.
– Well, I don't know. I've already done the work, and a couple of hundred euros is still money. But above all, it brings so much back to the destination we visit, Mattias says.
One person who knows Mattias well is Josefine Ås in La Grave. Josefine and Mattias worked together on a fledgeling magazine called Vertikal many years ago.
– What's special about Mattias is his energy, of course. I think most people would tell you that. Mattias is a true enthusiast.
– I almost envy that, the fact that he'll never be jaded. He's kind of 'been there and done that' but still has as much fun when he does it all over again.
The beginning
Mattias is from Växjö. At school he published his own newspaper, wanting to become an editor. After the housekeeping season in Riksgränsen, he ended up at the fledgeling magazine Vertikal, trying to compete with the heavyweight magazine Åka Skidor. After a turbulent editorial meeting the day after an issue was sent to print, Fredriksson resigned and started working at Åka Skidor instead. After that, he just kept going.
Today he is a senior photographer at Powder, SBC Skier and Fri Flyt. His commercial assignments include Salomon, Black Diamond, Hestra, Scott Sport, Elevenate and J Lindeberg. In a way, perhaps it's the fact that Fredriksson hails from the same part of Sweden as IKEA that makes him a unique product. He's the IKEA flat pack of skiing photographers. A completely entrepreneurial mindset: you get what you've been promised.
– No one in the skiing world works as hard as Mattias Fredriksson. No one! Says Tobias Liljeroth at Åka Skidor when I call him.
– I'm not just talking about him publishing a lot. I also mean that he's thorough. Mattias always tries to get the best picture, every run. In his world, it can always get a little, little bit better.
According to Tobias, the photographer doesn't give up until it gets dark, and you return home using your mobile as a head torch.
– I don't think I'm the only one he's used in a shoot who's come back after all the restaurants have closed, having a Snickers for dinner.
Like coming home
Last winter Mattias came back to Riksgränsen, again. Strumpan, Aikio, Thulin, Pancho and many others were there too. It always feels like coming home. He travelled with Canadian writer Leslie Anthony. Les was the editor who decided to put Janne Aikio's jump on the cover of Powder almost 24 years ago. The two finally got to meet, and Les Anthony was eager to experience what's become a hot topic among the best skiers in the world: the place where new skiing was born. As a bonus, the conditions were absolutely great. Mattias says he's probably never been able to take better powder images in Sweden, ever.
– You know, the heli-skiing was so awesome that I wish the budget had been infinite. And that's probably why I've already started planning to come back next winter.
– Why wouldn't you want to be where it's great, and where you feel at home?
– Besides, the light is so amazing to work with – midnight sun and bright nights, so you can work all the time.
Mattias Fredriksson
Mattias Fredriksson is a Swedish photographer living in British Columbia with his girlfriend, his dog, a few mountain bikes and more skis than he needs. And he is the most published skiing photographer in the world. Follow him on Instagram, @mattiasfredrikssonphotography.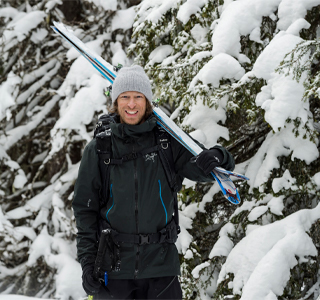 More on skiing in Swedish Lapland