En perfekt sommardag i slutet av juni kliver du av Haparandabanan i Kalix. Kustsamhället som gett den fantastiska löjrommen namn och ursprung. Du har 36 timmar på dig att göra något spännande av din weekend. Det enda du gjort innan är bokat boende. Men vad gör du i Kalix?
Eftermiddag: Shuttlebussen från nya Haparandabanan tar dig ner till Kalix centrum. Du har rum på klassiska Valhall och utanför på uteserveringen är det mycket folk i solgasset. Du checkar in, sen hittar du också ett bord på uteserveringen. Resdammet ska sköljas ned. Från serveringen ser du Nils Hotel, vars takterrass ser lockande ut, en bit längre bort efter gatan finns hotell Gamla Staden.
Kalix, kustsamhället i Swedish Lapland som gett Kalix Löjrom både namn och ursprung.
Kväll: Du beställer bord här på Valhall för middag. Men innan dess hinner du verkligen upp på takterrassen hos Nils Hotell. Utsikten över staden, ner mot Kalixälven är perfekt, solen lyser länge här och du passar på att njuta. Innan middag tar du en gin och tonic. Prisbelönta Norrbottens Destilleri, ND, gör gin i Töre i Kalix kommun. Där har destilleriet ett show-room där sällskap har möjlighet att äta utmärkt och naturligtvis ordnas ginprovningar. Valhall serverar en okomplicerad meny som passar perfekt. Du väljer att hoppa över Kalix Löjrom ikväll, trots att det alltid lockar. Istället så äter du carpaccio till förrätt och en ungsbakad fläsksida innan du avlutar med kaffe och ett par praliner från lokala Arctic Treats.
Where the river meets the sea lays the small town of Kalix. Explore the archipelago and savour the famous Kalix Löjrom — the Caviar of Kalix — a prized delicacy that is healthy both for you and our nature, which is served at special occasions such as the Nobel banquet, royal weddings, and other celebrations. Don't miss the Roe Safari, a safari like no other where you can taste the red gold of Kalix.
Check out #heartoflapland on social media.
Have a chat with the local tourist information for more insights. heartoflapland.com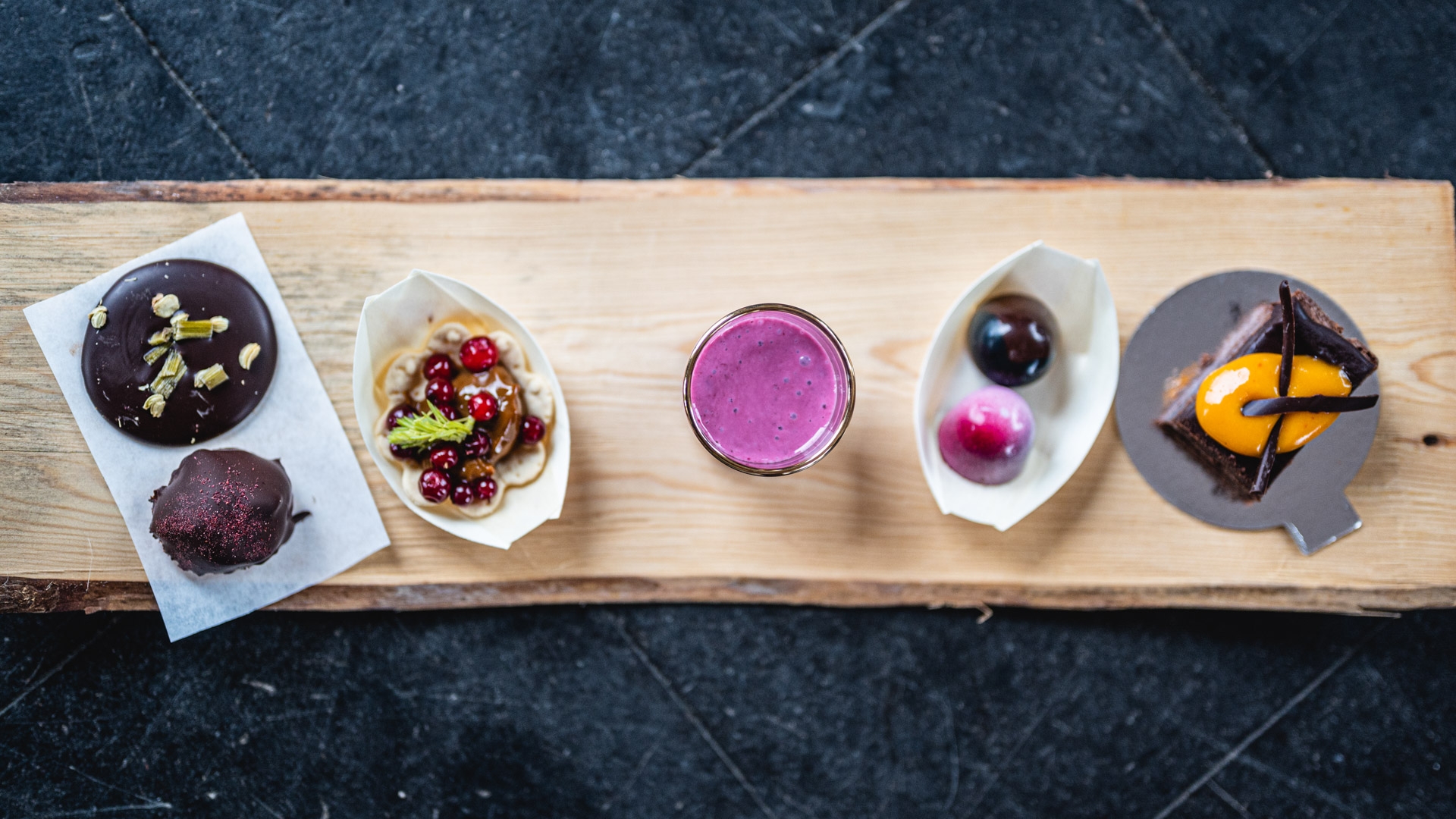 På Arctic Treats görs godsaker för hand, och många praliner har förstås lokala smaker.
Morgon: Du vaknar tidigt och tar en härlig morgonpromenad. Du går förbi klassiska och vackra Kalix kyrka, Sveriges nordligaste medeltidskyrka, sedan går du över älven innan du följer älven nedströms. Här ligger Kalix golfklubb och här finns två andra boenden, Ice and Light village, samt Filipsborgs Herrgård. Filipsborg är, förutom en klassiskt boende, även en speciell plats då det delvis var här som de första GSM telefonerna togs fram. Ice and light är trivsam glamping, en stuga under en glasigloo. Du vänder tillbaka samma väg när du känner att frukosten väntar på hotellet.
Dag: Du har hyrt cykel av Nordic Life, och imorgon kommer de också att ta dig ut på älven för lite paddling. Med din hyrda fatbike har du möjligheter att upptäcka staden, men också testa på ett spår som Nordic Life tipsat dig om i skogen. Första stopp denna förmiddag är Vassholmen en bit uppströms i älven. Vassholmen är en ö i Kalixälven, en av Sveriges fyra nationalälvar, som under flottningsepoken fungerade som skiljeställe. Idag är ön kulturminne och på sommaren finns här ett trivsamt sommarcafé, ett museum, samt härligt folkliv.
Vassholmen är en ö i Kalixälven, en av Sveriges fyra nationalälvar, som under flottningsepoken fungerade som skiljeställe. Idag är ön kulturminne och på sommaren finns här ett trivsamt sommarcafé, ett museum, samt härligt folkliv. Foto: Andy Anderson
Eftermiddag: Caféet på Vassholmen serverar lunch, fika och glass, egentligen allt det du behöver under sommaren. Du finner dig till rätta på en gräsplätt i solen. Du har en bok att läsa. Du väljer sallad till lunch. På eftermiddagen cyklar du tillbaka till hotellet och parkerar cykeln. Du har funderat på om det inte vore kul att spela lite boule eller minigolf nere vid Strandängarna, men väljer en stadspromenad istället. Småstäder gör alltid livet enklare för den som vill shoppa. Ingen trängsel och det som finns, det är det du ser. Utanför Galleria Kalix står en orange kula som staty, både en bild på det bandytokiga Kalix och platsens kärlek till löjrom.
Läs också löjrom
Kväll: Du har bokat löjromsprovning med Roland på Storöns Fiske. Han tar grupper för två till åtta personer och på något sätt passar du in denna kväll. Väl på plats i fiskebodan på Storön, dit du faktiskt blir hämtad, upptäcker du att de också har egenproducerad surströmming. Du blir förstås sugen på att be dem öppna en burk, men avstår och koncentrerar dig på kvällens provning av Kalix Löjrom. Denna löjrom är restaurang-Sveriges favorit och Sveriges första ursprungsmärka råvara. En fantastisk råvara, där i klass bland champagne, parmaskinka och stiltonost. Roland berättar om sitt skötfiske, om slitet med att vara yrkesfiskare i norr. Du besöker också den lilla "kylskåpsbutiken" där du köper med dig lite vildfångad gravad lax till picknickmackan. Du tänker på ett tidigare besök du gjorde ute på Malören, en ö i de yttersta skären. Tidigare bebott av fiskare och jägare, med svåra umbäranden, nu en plats du kan åka ut till och bara njuta, ser du till att boka ett par burkar av Storöns surströmming till årets premiär. Väl tillbaka i staden är Valhall fullt med folk, du finner ett trivsamt bord på verandan och väljer en Negroni, med ND forest gin som bas.
The dawn of a fish
Kalix Löjrom är idag ett välkänt varumärke och en råvara som finns på fina restaurnger runt om i världen. Det här är historian om hur den blir till.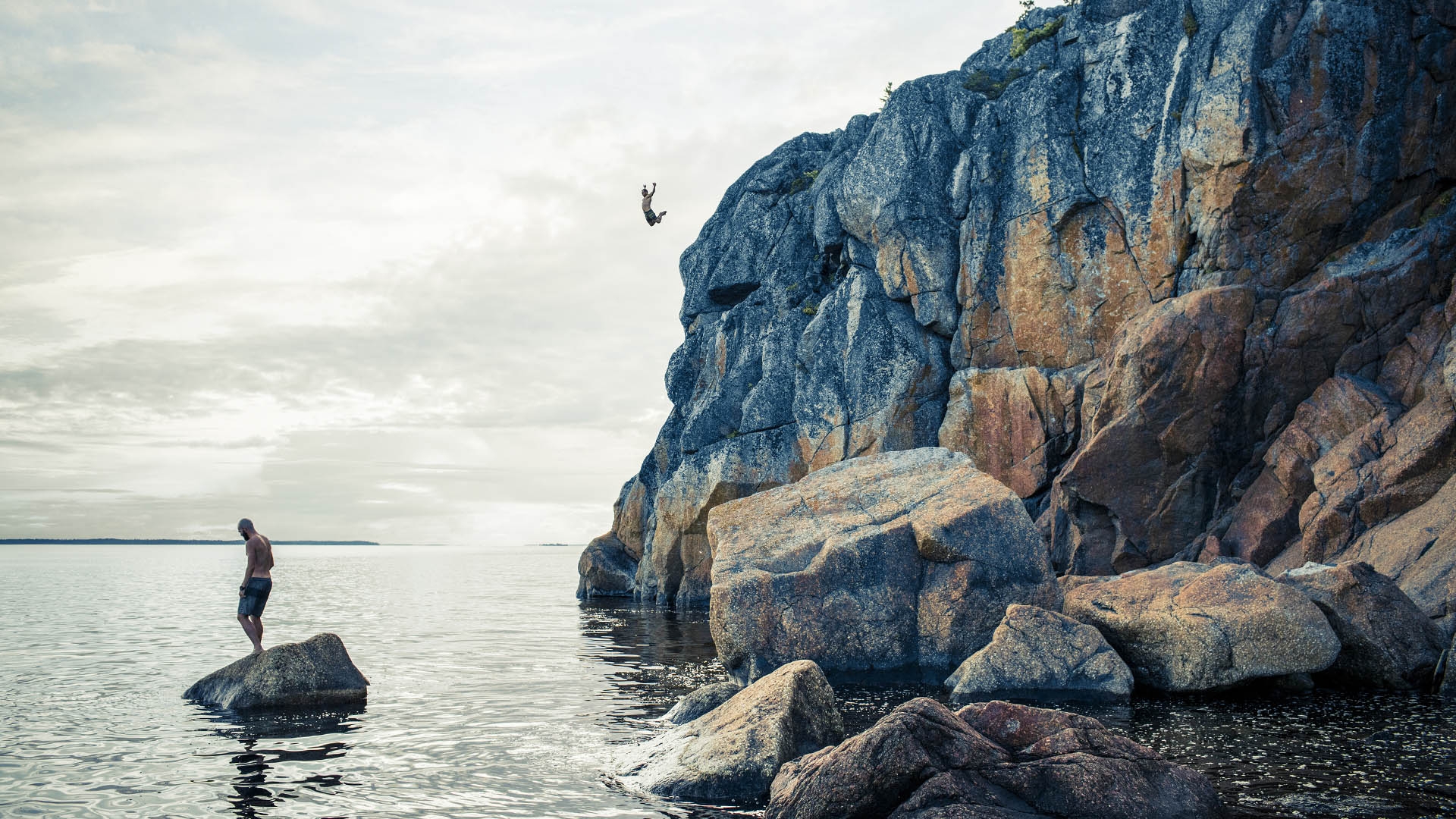 Bottenvikens skärgård är spektakulär och många kalixbor spendrar gärna så mycket tid de bara kan på öarna. Foto: Andy Anderson
Morgon: Eftersom sommaren under midnattsljuset gör dig pigg tar du en tidig morgonpromenad ner till campingen Strandängarna. Innan badet öppnar och du kan simma dina längder, hinner du först med ett pass i utegymmet. Efter simning och lite gym går du tillbaka till frukost och packar ihop dina saker. Nordic life kommer med kajaker till Strandängarna, så du ska dels lämna igen den hyrda cykeln dels paddla ett par timmar på älven innan det är åter är dags att kliva på tåget mitt på dagen. En perfekt avslutning på perfekta dagar.
Packing up: Du hade absolut kunnat stanna längre, tagit dig ut till Malören och de yttersta skären. Där du paddlar omkring på Kalixälven tänker du på att det säkert också är bra fiske i älven, gädda, lax och den spännande sik-håvningen i Kamlunge. Och skulle du gjort det på vintern hade du bytt ut cykel och båt mot skoter och skidor. Det finns alltid mer att upptäcka.
Part of theme: